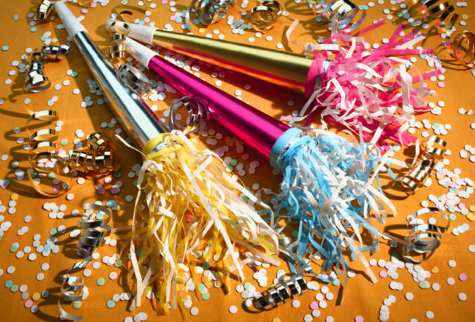 HAPPY NEW YEAR!

As part of New Year tradition we look to ways we can make the New Year a little brighter.  This is perhaps why we make New Year's Resolutions.  So, what's on your New Year's Resolution list?  According to Albrecht Powell with Ask.com, the top 10 New Year's Resolutions for 2011 are:
1.     Spend more time with family and friends
2.     Fit in Fitness
3.     Tame the Bulge (which probably is really part of Resolution #2)
4.     Quit Smoking
5.     Enjoy Life More
6.     Quit Drinking
7.     Get Out of Debt
8.     Learn Something New
9.     Help Others
10.  Get Organized
So how about it?  Did your New Year's Resolution make the list?  Let me draw your attention to Resolution #9 on the list.  "Help others."  This resolution will help you reach your goal with just about any other resolution on the list depending on how you volunteer your time. Community Service is important for every member of the family, especially for your student's who are preparing for college.
Why is community service so important to your teenager?
In a study at the University of Nevada, Molly Latham, Area Extension Specialist answers this question.  She said, "While benefits to the communities served can be translated to a monetary figure, the benefits reaped by the young people offering their service have a positive impact on them personally both immediate and into the future."  Some of these benefits can turn into scholarship and admission opportunities that otherwise would pass them by.  Please understand that we are not encouraging your student to volunteer just so they can pad their college resume.  Students should volunteer because they truly want to give back to their community.  However, no matter how much you want to give selfless service to others and expect nothing in return, return is exactly what you get.  The simplest return for reaching out in service is that feel-good feeling you feel because you took time out of your day to help someone who needed it.
What are the Benefits of Community Service?
There are many benefits to community service.  In an article entitled, "Benefits of Student Participation in Community Service," the University of Michigan concluded that a student is benefited in three different areas of their life:
1.     Psychological Benefits – This includes that "feel-good feeling" mentioned earlier, but also includes a decrease in stress and depression and an increase in satisfaction in your student's life.
2.     Social Benefits – Most volunteering opportunities place you in situations where you can interact with others, usually with people you would not interact with otherwise.  This may provide an opportunity for your student to improve communication skills, build friendships, and learn to cooperate in a group setting with people from all walks of life.
3.     Cognitive Benefits – "With each new experience, old skills are developed as new ones are learned.  New information is integrated with past experience, and one's knowledge base grows."

Community Service and Your Student's College Application
Most Colleges and Universities have a section on the application where your student can write about their community service experiences.  You may be asking why do they care about whether or not your student has done community service.  The admission's office reviews thousands of applications every year and they have a limited number of students that can be admitted each year.  Having an outstanding community service section can be the difference between getting accepted into the school of choice or not, especially when they are comparing your student with other students who have the exact same ACT score and GPA.  These extras help your student jump off the page and become real.

Where should your student volunteer?
Well that is really up to them.  There are so many opportunities out there and many good organizations who need their help.  Because there are so many options it can be a little overwhelming.  One tip we give is to encourage your student to volunteer in something they are interested in or are looking at for a possible career.  If your student is interested in the medical field, for example, encourage them to volunteer at the local hospital.  This can expose them to several different areas within the medical field, giving them experience, understanding of how things work, and the opportunity to talk to experts.

A simple internet search can get you in touch with many organizations who are looking for volunteers.  Evaluate your student's schedule carefully taking into consideration schoolwork, work schedules, and other activities your student may already be involved in.  Help your student determine how much time they have on a weekly or monthly basis to devote to community service so they are not overwhelmed with one more thing.
The benefits of helping in the community are not just limited to your college bound student.  They apply to parents and younger children as well.  Make it a family resolution this year and reach out in your community.